Hello.
I'm new to baling and i bought my own baler (NH 366 - for Europe). Today was the first day of baling. For first time baler gone good. But i have one other problems with twine is everywhere around on the field, on the bale,... It is always about 30 mm long.
The problems is viewed on the photos: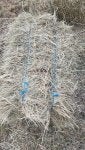 If i would say what is wrong, i would say i should replace the knife for twine. I know, there are some professionals, they know exacly....
Thank you for answers.